All of our uniforms and equipment have been thoroughly researched and documented. As a unit we have identified resources to either create or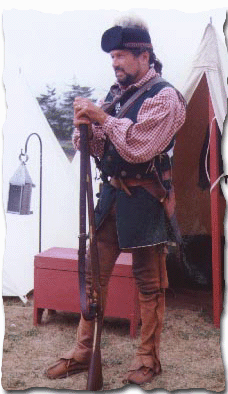 purchase various required accoutrements and supplies. Within the hobby are a variety of sutlers (vendors) who make and sell every imaginable item needed to accurately portray our 18th century counterparts. To offset costs, our members will create certain portions of their kit using either available patterns or company gear as samples.
Sutlers can be found at most events, on the web, or through hobby related magazines.
As the start up costs can sometimes be prohibitive, the unit will often loan a uniform, tent and musket to new members when they join. A new member is usually expected to have the basics soon after joining and purchase the "larger" items by the second season.
We strongly recommend that any interested parties contact the unit before making a purchase of a musket, tent or item of clothing.
Below is a list of BASIC items needed for reenacting. The costs will vary from sutler to sutler.


Rogers' Rangers

French and Indian War

King's Rangers

Revolutionary War

---

---

Brown fly-front breeches $50

White, drop-front breeches $50

Shirt, colored or check pattern $30

Long dark green waistcoat $60

Short dark green waistcoat $60

Scottish bonnet, green wool $15

Floppy hat, black felt (tricorn) $30

Uniform: Rogers' regimental green wool with green facing $160 (inc. wool and buttons)

Uniform: King's regimental green wool with red facing $200 (inc. wool and buttons)

---

---
Gear common to both time periods:
Frock, green linen $70
Leggings, green wool (hand make)
Stockings, silk (for warm weather) and wool (for cold weather), any color. $8.00 to $12.00 per pair
Moccasins $30
Wooden bowl $13
Spoon $3
Haversack $8
Tin cup $5
War belt $25
The following items are not imperative immediately upon joining, as members will loan these items, when possible. These items are required by the second season!
Tent, wedge, white, canvas: The cost of a tent varies on whether it will be for a single soldier or a family. Please remember to contact the unit to discuss your choice before making a purchase, as it must fit within a specified size and style. Approx. $155, plus poles.
Musket, Brown Bess: $650. Occasionally a member has a musket for sale at a reduced price. Please contact us to inquire on the availability.


Most of these items can be hand made using available patterns and materials.
Shift, cotton or linen: $25.
Petticoat, cotton or linen, drawstring: $25.
Apron, drawstring: $7.
Stockings, cotton, extra long, 2 pair: $8.50 ea.
Cap (not a mob cap), cotton or linen: $15.
Shortgown, bedgown, or sleeved jacket, cotton or linen: $40. NO sleeveless bodices.
Modesty piece scarf: $10.
Shoes, black: $85.


Patterns and period materials are available from various vendors. A full supply of pre-made children's clothing is available but most folks make their own and pass them on.