We are a group of men, women and children who reenact the daily activities of the military forces that inhabited our colonies over 200 years ago. Those activities include military demonstrations, recreation of camp life, and public education. They require that our uniforms, clothing and equipment be accurate reproductions of items worn and used during the historical periods being reenacted. The units and periods we portray are Rogers' Rangers for the French and Indian War (1754-1763) and King's Rangers (members of the provincial battalion of the British Brigade) for the Revolutionary War (1776-1781).
Although we portray a Loyalist group of the Revolution (some of our members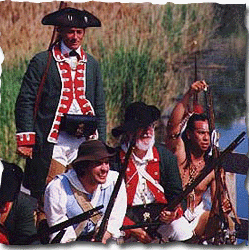 are descendents of soldiers who fought against the British), we do so with the understanding that to accurately portray the events of that time requires two armies, and somebody has to be British! The opportunity has actually allowed us to better understand the politics and events of the period.
We perform battle maneuvers known to have been in use during the original conflict, with battlefield commands given and carried out in a historically correct form. Our flintlock muzzle-loading muskets fire only black powder charges during demonstrations. We perform with strict adherence to personal safety, both our own and that of the public.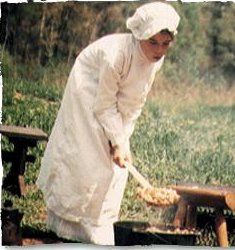 Camp life is depicted as it would have looked when an army was on the move, with canvas tents, open cooking fires and rustic equipment. Since women and children followed the troops from one encampment to another, we encourage wives, children and 'sweethearts' to participate by performing the essential tasks that would have fallen to their historical 18th century counterparts. (Participants must be 16 years of age to field and fire a musket.)
There are no requirements to joining other than an interest in history, travel and the outdoors. It requires no special knowledge of the events, players or equipment.
Since 1976, under the command of Major Jim Hayes, the unit has represented the Crown at events and locations throughout New England including Fort Ticonderoga, Crown Point, Fort 4, Mount Independence, Fort Niagara, Yorktown, Williamsburg, Old Fort Western, Fort Stanwix and Bennington as well as at Quebec, Montreal and Fortress Louisbourgh.
In 1987 members of the group participated in a two–month recreation, by water and land, of Rogers' infamous expedition to St. Francis, Canada. In 1997 several members departed Fort Ticonderoga, NY, t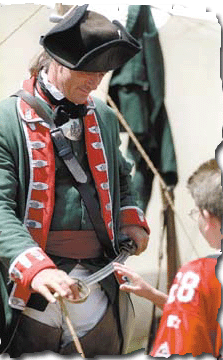 o traverse the original Crown Point Road of 1759, across Vermont to Fort 4, NH. Each fall, certain members of our unit hike into the backwoods of New York for a week, to replicate the lifestyle, and experience the hardships and hazards, of the French and Indian War period.
Today, Rogers' Rangers, under the command of Major Michael Fitzgerald and Sgt. Paul Stevens, is headquartered in Connecticut and includes members from upstate New York, Pennsylvania, Long Island, Rhode Island, Massachusetts and Maine. We enjoy reenacting and hope others will enjoy our historical interpretations. Please consider visiting one of our events.